Pennsylvania Broadens Criteria for Identifying EJ Communities
Posted on October 17, 2023
Until recently, the Pennsylvania Department of Environmental Protection (PA DEP) had two primary Environmental Justice (EJ) criteria for communities in regard to inspection and enforcement:
20% residences earn below federal poverty line; and
Above 30% of population is non-white minority.
The PA DEP recently updated its criteria and completed the development of an EJ tool called PennEnviroScreen. The tool was designed to help standardize the assessment of EJ areas in Pennsylvania. While the new version of the EJ criteria is non-binding, the PA DEP has communicated its intent to apply EJ criteria more broadly. Under the new policy, PA DEP staff would prioritize EJ communities during inspection of facilities and distribution of grant dollars. Additionally, it would potentially create higher fines for violations within the EJ community.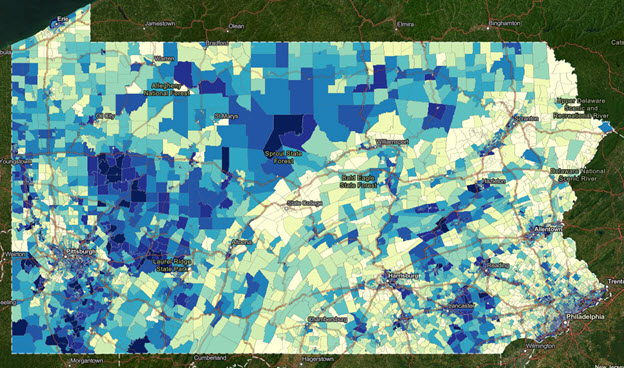 The new tool incorporates 32 EJ indicators to identify EJ Communities in Pennsylvania. Utilizing these 32 indicators, EJ communities are established for areas with a final percentile score of 80% or above. Of note, this has caused many rural areas outside of municipalities to now fall under EJ community standards, evidenced by the map above.
There are six main categories which the 32 indicators fall under within the tool. The main categories are Pollution Burden, Environmental Exposures, Environmental Concerns, Population Characteristics, Sensitive Populations, and Socioeconomic Populations. The two main categories associated with environmental concerns are environmental exposures and environmental effects.
Environmental exposures including the following:
Ozone
PM2.5
Diesel Particulate Matter
Toxic Air Emissions
Toxic Water Emissions
Pesticides
Traffic Density
Compressor Stations
Children's Lead Risk
Environmental effects including the following:
Conventional and Unconventional Oil and Gas Well locations
Railroads
Land Remediation
Hazardous Waste and Storage Sites
Municipal Waste
Coal Mining
Impaired Lakes and Streams
Flood Risks
Abandoned Mining Concerns
It's important for industrial facility owner/operators and real estate developers to understand if these new standards alter the EJ status of communities in their vicinity, and what that could mean for altering the course of planning or existing environmental management steps.
Do you need help understanding how these changes to Pennsylvania's EJ analysis could affect your sites? Please contact us using the form below and speak to a Roux professional experienced in EJ assessment and requirements.