May Day: I'm Graduating Soon…Now What?
It's mid-May, so you know what that means: the four best years of your life are coming to a close. Even if you have the perfect job lined up, graduating is always bittersweet. You likely started out with zero connections, spent years building friendships and professional networks, and now you're leaving them all behind. Starting over is never easy—especially if it involves assimilation into the "Real World" while potentially moving back in with your parents.
The question remains: …Now what?
My name is Melissa Nau and I was in your shoes exactly two years ago. I'm here to offer tips and advice on how to prepare, search, apply, and interview for jobs that I wish I had discovered a lot sooner.
What to do if you're graduating in a matter of days – The Basics:
1. Take care of the obvious: Update your resume. This is easy to do and can be a nice break from studying for the six finals you have to take within three days. By now you'll know things you didn't know before: your final GPA, a list of every class you've ever taken, whether or not you've graduated "summa cum laude," all of the necessary information to describe your internships, and awards you may have won. This is exactly the kind of content you want on your resume. Make sure to insert "May 2016" as the end date on your current education (instead of "August 2012-Present"), or simply write "Class of 2016." Same goes for any internships and relevant work experiences that will be ending when you graduate.
2. If you haven't already, make a LinkedIn account. If you've conquered step one, step two is just a few clicks away. LinkedIn is extremely easy to create and navigate—I call it Professional Facebook. You can take your updated resume and upload it directly into LinkedIn where it will list your experiences in the following format:

You can list every job you've ever had, schools you've attended, volunteer programs, publications, awards, and more. It's essentially a more extensive and easy-to-read online resume. Similar to Facebook, LinkedIn will find "people you may know" to add as connections and expand your network. While you most likely will not use LinkedIn as a platform to have a casual conversation with your friends, you can help each other out by "endorsing" one another for credible skills. This shows potential employers that other people actually recognize your abilities. The number on the left corresponds with how many people have endorsed me for each skill: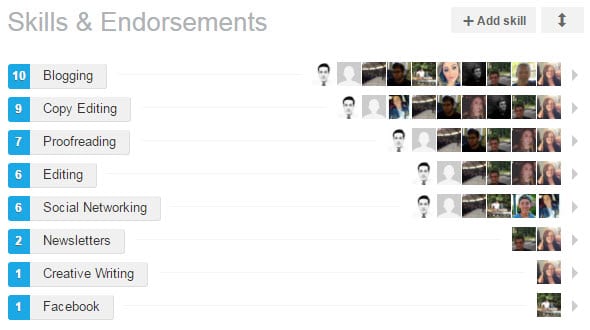 Odds are that you do not have a professional head shot, and that's okay. You can always look for a nice Facebook picture in which you are smiling/appropriately dressed and cut it out to use on LinkedIn. If your Facebook photos aren't professional enough, get a friend or parent to take a quick shot of you in a dress shirt in front of a blank wall—whatever gets the job done.
Once your profile is in order, you can immediately begin searching for jobs on LinkedIn. Their advanced search options offer a large variety of industries and functions to choose from, and you can always narrow down your search by region: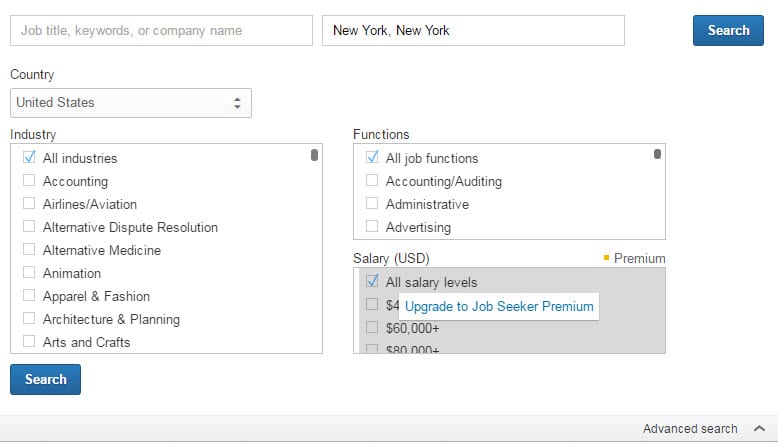 If this is your first time seeing what a job search looks like, congratulations! It's just as easy as it looks, and almost all other job searching platforms will look similar to the one above.
3. Help employers help you. Now that your resume is updated, you can post it on different job sites where employers can find you. Do this immediately; if you've already updated your resume it's the easiest, fastest, and potentially most beneficial first step in your job search. The best sites to post your resume on are CareerBuilder and Monster. I've attained two jobs after being contacted through CareerBuilder. In my experience, these sites are the most credible. Other sites include, but are not limited to, Indeed, Mediabistro, and even Craigslist. I know Craigslist sounds…less than credible, but they have pages that are solely dedicated to employment. One of my friends had his resume on Craigslist and it led him to a publishing job at McGraw-Hill in New York City. (Miracle? Maybe. True story? Yes.)
Keep in mind that if you choose to put your resume on Craigslist, there are different pages categorized by region—so if you live in New York, you may want to post your resume on the Long Island Craigslist and New York City Craigslist job pages. Sites like CareerBuilder prompt you to create an account in order to post your resume, which requires very basic information (name, email, address, etc.). On any site where you're posting your resume, make sure you choose the option to "Display my Resume and Contact Info":

If you hide your phone number and email address employers will not be able to contact you directly, which is the whole point of this process. If for some reason you receive a lot of spam (which I have not) you could always go back and change this later.
If you're already interested in a few companies related to your field, you're ahead of the game. In this case, it's always better to go directly to the company website and click on their Careers page.

If you don't want your resume displayed on the Internet, you can still use the websites above as resources to search for jobs. Most of them contain their own job blogs to help guide you along, as well as tips for writing resumes and cover letters. I'll be sure to tackle these concepts later on—for now, check out the above steps and enjoy what's left of your undergrad career, before your student loans find you.