CSR Spotlight: Guatemala Mission Trip
When Roux Associates started encouraging employees to take part in charitable activities, it quickly evolved from a suggestion to a passion. Through our CSR (Corporate Social Responsibility) program, we have donated hundreds of thousands of dollars and countless hours of volunteer work in just a few short years. In supporting a wide range of charities, including group and individual efforts, Roux most recently supported Larry McTiernan, a Principal Hydrogeologist in our Massachusetts office, who traveled to Guatemala for five days to help orphans and struggling families in and around the nation's capital, Guatemala City.
On April 23, 2016, Larry set out to Guatemala for the second year in a row with his church, Granite United Church. The church itself was embarking on its fifth trip in the past four years; they've also done mission trips to Mexico, Trinidad, and the Bahamans. For each trip, the church has partnered with a group called Manna Worldwide, a Christian non-profit organization striving to "rescue children from the grip of poverty." Larry made the journey with 25 other church volunteers, taking part in what he called a mix of "faith-based, spiritual and physical missionary work."
A portion of the church's time was dedicated to helping out Manna's orphanage in Guatemala City, which Larry's church helped build during trips in 2013 and 2014. The facility currently houses 21 children, yet only two are actually eligible for adoption. Larry explained that many of the children in the orphanage had been abused and taken away from their parents by the government, yet they cannot be adopted unless their parents give permission. For that reason, most of the kids are in a sort of family limbo: they have no home, but cannot look forward to adoption. Their ages range from a newborn baby who was recently found abandoned, to about 14 years old. The volunteers spent hours with the kids, running around outside and playing indoor games like Uno.
=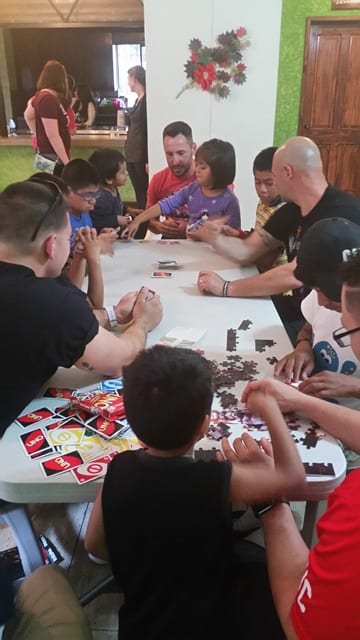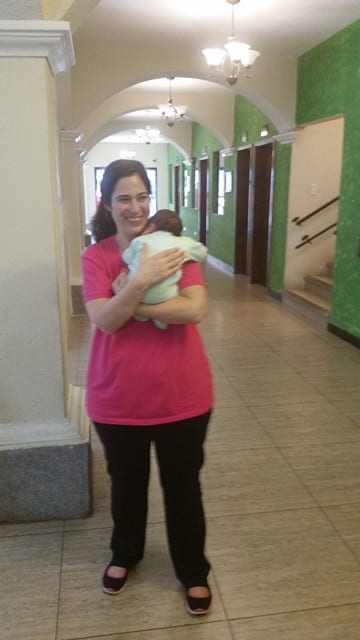 Larry and his group stayed in a dorm in Guatemala City at night. By day, they worked directly with a missionary couple who live about 20 minutes away from the orphanage in a town called San Lucas. The missionary couple—one of whom is Mexican, the other from Wisconsin—happen to be builders as well. Over the years, they've played an integral role in the group's other projects: building a feeding center, houses, and wooden beds.
The feeding center and home building were last year's projects during Larry's first trip to Guatemala. This took place in a much more rural, largely Mayan part of Guatemala called San Rafael el Arado, or El Arado for short. The volunteers mixed concrete by hand in order to lay the foundation for these buildings, often carrying large bags of cement and cinder blocks up and down steep hills. Two years ago, the family pictured below lived in a house made mostly of sugar cane stalks. They are now pictured in a home the church built. According to Larry, "That tiny woman carried three cinder blocks at a time…with one on her head."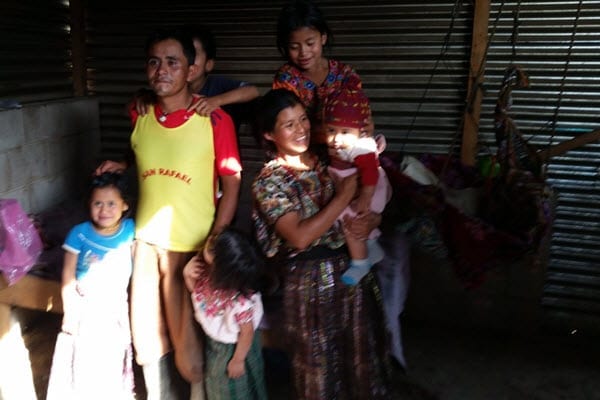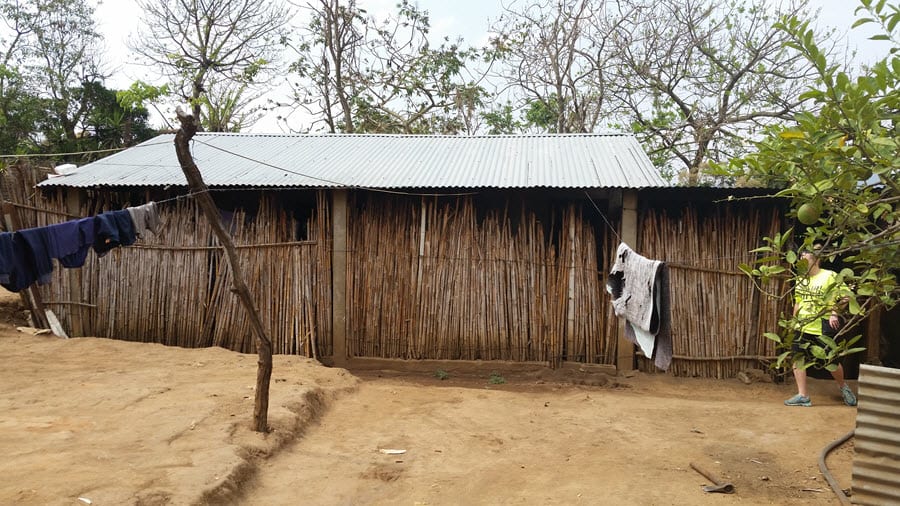 The structure that Larry helped to build last year is now a functional feeding facility, community center, and church. He returned there this year to help serve food to the locals. Five times a week the feeding center provides children with what is likely their only substantial meal of the day, typically comprised of rice, beans, meat, and vitamins. About 100 kids are fed each day, many of whom walk over five miles to get there. At home, children in El Arado usually have nothing to eat but corn, which they grind by hand to make corn flour tortillas. "That's really all they have to eat," said Larry, "which isn't the most nutritious."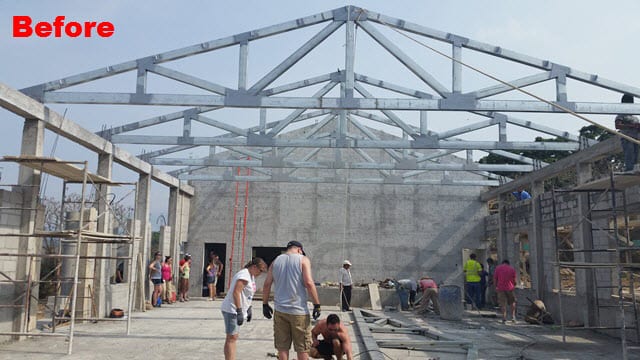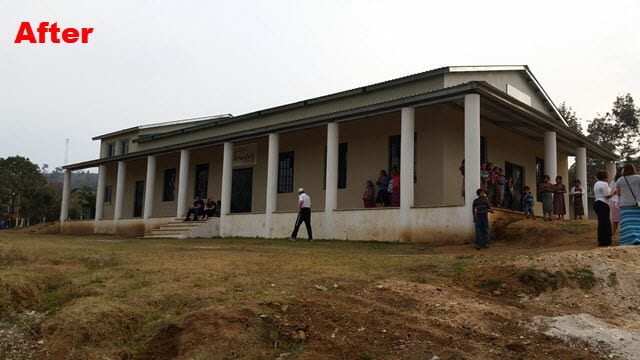 In addition to providing kids with food, Manna also offers vital medical care to El Arado's children and adults through a clinic. Thanks to generous donations from the United States, the clinic is now fully staffed three days a week. The majority of the medical efforts are dedicated to pregnant women who arrive at the clinic, who are given neonatal vitamins to help healthy child development and prevent birth defects. The center also provides basic first aid; one of Larry's fellow volunteers was a trained nurse who cleaned a deep wound on a little boy's foot. Most of the Guatemalan children do not own shoes. Each of the volunteers brought along a large crate as their second luggage, filled with shoes and toys to give out to the children at feeding centers in two villages—Roux helped to fund this last year. Larry recounted, "Both years I went, United Airlines was kind enough to waive our fees for the second bag. Probably saved us about $1,000, money which we could use on other things down there."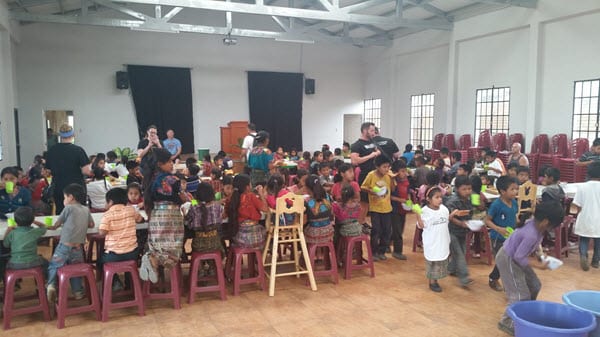 Larry's group also helped out by providing lice and foot-worm treatments. Feet were washed and cleaned deeply, and hair was deloused and combed out. Little girls were ecstatic to get ribbons in their hair. Every child was thrilled to get their hands on some toys—favorites included nail polish and soccer balls.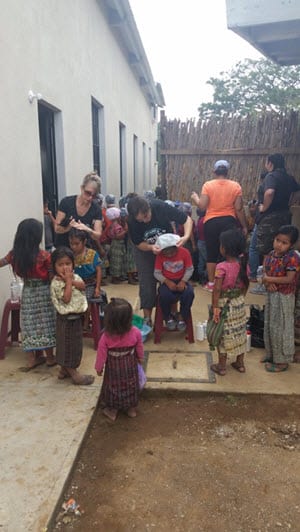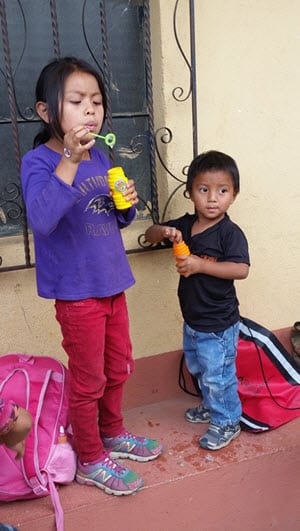 This year, Larry spent most of his time constructing beds for families in El Arado and impoverished areas of San Lucas. Their homes generally contain a dilapidated bed for parents to sleep on, while children sleep in swinging hammocks, or on the floor. Commonly, beds are their only existing furniture. Larry and his church built beds for families by hand. The long process involved cutting, sanding, staining, and sealing all of the wood; assembling the various pieces of wood into a simple frame; buying mattresses, sheets, and pillows; and finally carrying the beds (often up steep mountains) into their new homes. Lumber is extremely expensive in Guatemala, resulting in a total cost of $150 per bed. Thanks to Roux's donation along with outside contributions, Larry's church was able to build 15 beds this year. "The money went a long way," he reported.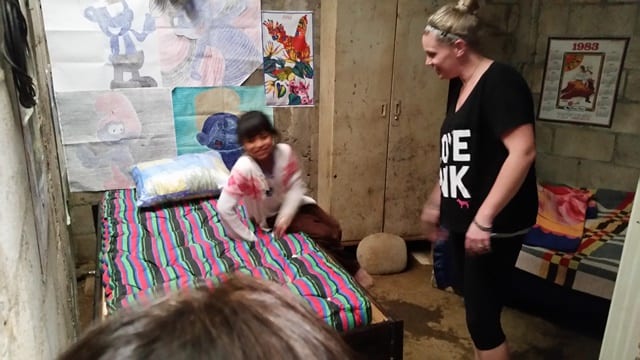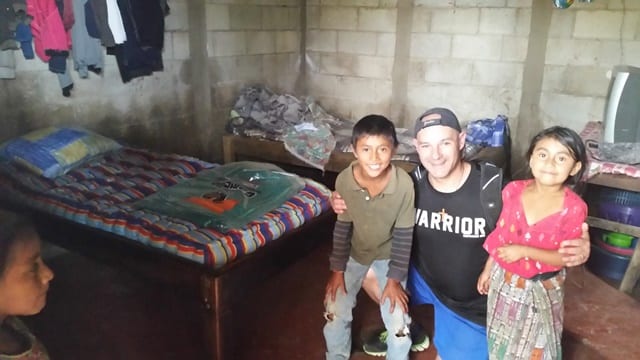 Last year's experience for Larry was very different than his trip this past April. He certainly experienced culture shock the first time around. He traveled in three-van convoys on roads with heavy traffic and no speed limits, met people who had to walk hours for food or water, and walked through villages that were littered with stray animals and garbage, stricken with poverty. He found it difficult to pray with the people he met, knowing that at the end of the week he would end up back in America while they continued to struggle.
This year, it became easier to focus on the positive. Larry's favorite part of the trip was "seeing the kids and the simple joy on their faces." The convoys drove through two villages to get to El Arado, where families stood in their doorways with blank stares—but as soon as Larry waved to them, the kids' faces would light up instantly as they waved back with excitement.
One of his favorite stories started with traveling to a home where the only bed had a huge hole in it and had completely collapsed. After her new bed was built, a mother of multiple children was "gushing with thanks." She then started opening up to some of the Spanish-speaking volunteers about her home life. Her husband had abandoned their family. One of the American volunteers shared that she was going through a similar situation back home. The emotional exchange led the two women to cry, and before long every woman in the room was crying. Even though he doesn't speak language himself, Larry was touched by the universal experience the women shared, despite coming from two completely different worlds.
Granite United Church's next adventure will bring them to a cancer hospital in Honduras later this year. Larry plans on traveling back to Guatemala next year to build more beds, or take part in whatever activity the church has planned. His son, who takes Spanish in high school, may accompany him and help to close the language barrier. Roux Associates thanks Larry for the time and effort he has dedicated to this wonderful cause. We look forward to hearing next year's stories.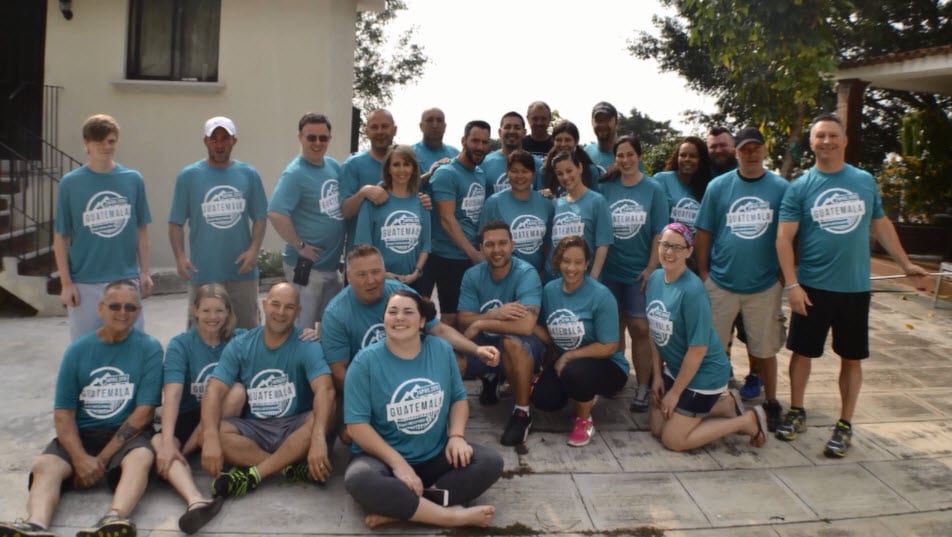 Larry McTiernan, standing third from the left, and his fellow church volunteers