Last Chance to Register: Western Agricultural and Environmental Law Conference
Join Roux at the Western Agricultural and
Environmental Law Conference 
Thursday, May 4 – Friday, May 5
Reno, Nevada & Available Online
Roux is proud to partner with the National Agricultural Law Center on their upcoming conferences for 2023. The agricultural industry throughout the United States is uniquely impacted by changes and developments in state, federal, and international laws and policies.
The inaugural Western Agricultural and Environmental Law Conference will explore the many agricultural issues unique to the Western US—water rights, foreign ownership of agricultural land, Endangered Species Act, Proposition 65, and many more—which often more broadly impact the agricultural industry throughout the US. The main conference will feature 11 hours of continuing education, including one hour of Legal Ethics.
On May 5, The Western Conference will feature Roux's Emily Goswami, M.S., CIH, who will join Alexandra L. Lizano and Sophia B. Castillo of Downey Brand on the session Prop 65: What Happens in California Isn't Staying in California. Proposition 65 requires businesses to provide warnings to Californians about significant exposures to chemicals that cause cancer, birth defects, or other reproductive harm—will this impact additional regions?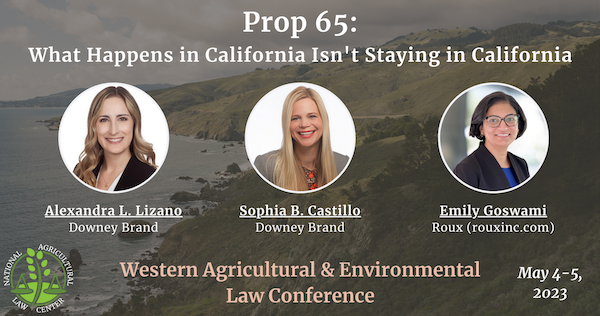 Later in June, join us for the
10th Annual Mid-South Agricultural and Environmental Law Conference
Thursday, June 8 – Friday, June 9
Memphis, Tennessee & Available Online; Register by Tuesday, May 23 for three "bonus hours" of online continuing education (including one hour of Legal Ethics)
---
Upcoming Roux Complimentary Webinars
Into the Unknown: Mitigating Subsurface Condition Risks in Site Evaluation/Development
Tuesday, May 2nd at 1pm EST
What's Cooking with Gas Stoves? Health Effects, Regulations, & Litigation
Tuesday, May 16th at 1pm EST