CSR Spotlight: Unexpected Rescue
Posted on October 25, 2017
One of our many Northeast Brownfields Sites has been home to redevelopment, as well as an unexpected rescue. The Site is approximately 12-acres—the future home of a large enclosed regional mall with four above-grade retail levels and two sub-grade parking levels. Since the project award in 2013, Roux has completed multiple phases of soil and groundwater investigation and developed a Remedial Action Plan (RAP). The RAP consists of a large-scale excavation with off-site disposal or reuse of approximately 70% of soil, with the remaining 30% placed under the new mall to render the impacted soil inaccessible and environmentally isolated. Recently, Roux's field work has consisted of a Community Air Monitoring Plan (CAMP), excavation oversight, off-site disposal management, and endpoint sampling.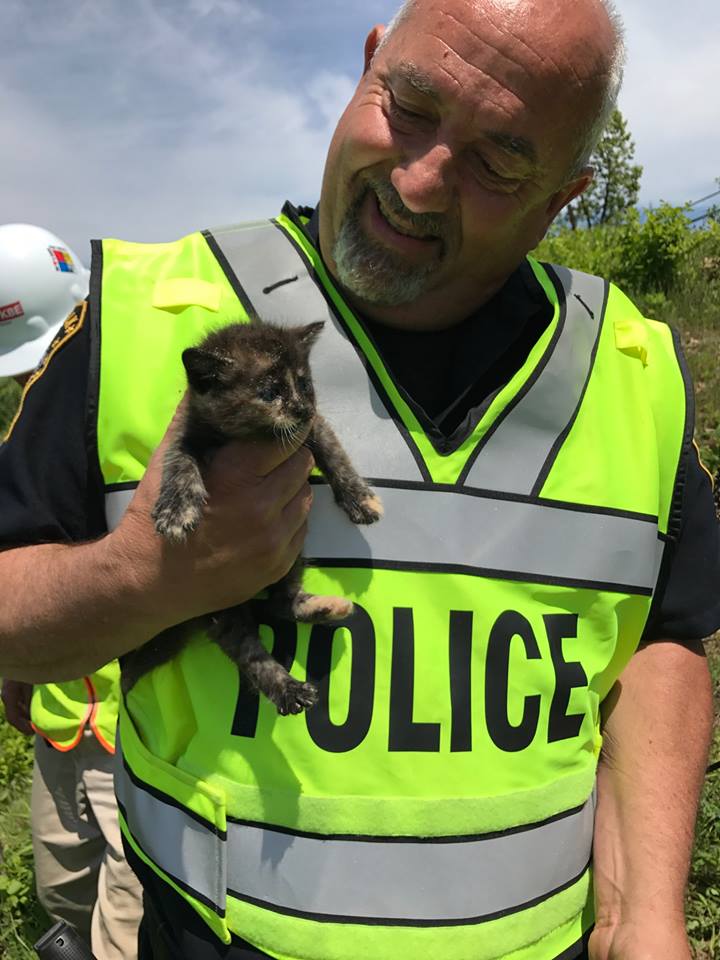 There is one thing that all of our Roux field staff can agree on: no two days are the same. Whether they're supervising, taking samples, or performing maintenance activities, each day brings new hazards to watch out for, tasks to complete, and data to collect. A new, seemingly typical day at this same Northeast Brownfields Site led the Site's Field Manager, Nick Palumbo, to make a surprising discovery while performing excavation oversight.
Nick, a Staff Engineer from our Islandia, New York office, began his day watching excavation and site preparation activities unfold. The Site was still full of brush, tall grass, and bushes. While walking up a hill to get a better vantage point of an excavation, he saw a black cat jump out and run off into the woods. On his way down the hill, he then discovered three small kittens under a bush.
"Knowing excavation was going to proceed through this area, I went to the police officer who was working road duty that day and asked him if he knew of any rescue facilities that could pick up the kittens," Nick said. It turned out that the officer (pictured above) had a contact who rescues stray animals. The rescuer arrived outside the Site within ten minutes, informed Nick and the policeman that the kittens were approximately five weeks old, and safely transported them back to her home nearby.
In effort to reunite the kitten's mother with her young, Nick later set up a cage trap. Sure enough, the mother cat was in the cage shortly after, and was promptly brought to the rescuer's home. The woman who rescued the cats kept in touch with Nick, letting him know the kittens were weaned onto kitten food and fully vetted before they were put up for adoption. They now have all been adopted into new homes, while the mother cat is still living with her rescuer. "Excavation ended up occurring in the kitten rescue area later that week," explained Nick, "so it was a good thing we found them."
Inspired in part by Nick's efforts, Roux has been getting more involved with non-profit animal rescue organizations, including our recent hurricane relief fundraiser. Since many of our field staff encounter wildlife daily on our sites, animal protection has been identified as a meaningful and uniting cause for the members of our firm. At each of our offices nationwide, we look forward to partnering with more animal organizations as part of our future CSR efforts.