Roux Remediation Project: Former Petroleum Refinery and Active Distribution Terminal
Posted on November 10, 2016
In celebrating Roux Associates' 35th anniversary, we would like to highlight a major project for one of our largest petroleum company clients. Our work for this major oil company began in 1989 at a small corner gas station in the Bronx. Since then, we have been involved in a number of additional projects for the same client, with many of our employees having worked on at least one of these projects. Throughout the years we have continued to gain additional responsibilities working for this client, including the remediation of a former petroleum refinery and active distribution terminal (Remediation Project) in Brooklyn, New York.
The Remediation Project is one of Roux's largest undertakings. The Site itself is 174 acres and is located within a part of Brooklyn that has a rich industrial history dating back to the mid-1800s. The area was home to a vast number of industrial operations over the years—it housed sugar refineries, fertilizer factories, tanneries, oil refineries and terminals, manufactured gas facilities, and more.
Our client began remediation activities in 1979 and hired Roux to assist them in 1990. Drew Baris, currently a Roux Vice President and Principal Hydrogeologist, was Roux's original Project Manager when our work began at the Site. Drew explained, "It has been an honor for Roux to work on the Remediation Project. Throughout this time, our client has been steadfast in their objectives: including completing remediation in a manner that is protective of public health and the environment, being respectful of our neighbors in the community, performing our work safely, and complying with all applicable regulatory requirements." From Drew's perspective, a major reason for our success on the project has been that Roux employees share these same objectives.
◊◊◊
To date, Roux has designed, installed, upgraded, and maintained remediation systems that have recovered more than 8.5 million gallons of petroleum product from beneath the Site. Perhaps equally impressive as the systems themselves is the diligent work Roux employees put into the Site on a daily basis. As explained by Tom Grindlinger, Roux's Systems Operation Manager, "The most important and impressive thing to me about the Project is the people who make it go every day." A Site veteran himself, Tom has worked with these systems for thirteen years. When hired, he was one of three employees working full time on the Project. He has since watched the Site grow to employ more than thirty geologists, technicians, and engineers.
Tom's primary job function is to supervise and coordinate with a team of nine environmental technicians for the daily operation and maintenance of each remediation system. The specifics of this include a constant focus on safety, making system adjustments to optimize product recovery, and performing maintenance to keep systems running. There is at least a 90% runtime on all of our Site's remediation systems, meaning they are running more than 90% of the year: well above the industry standard. To achieve this, all critical system components have built-in backups, so the system can remain running when one of the components is shut down for routine maintenance. Tom and his team also oversee critical equipment checks, making sure the systems are operating safely and in compliance with applicable standards.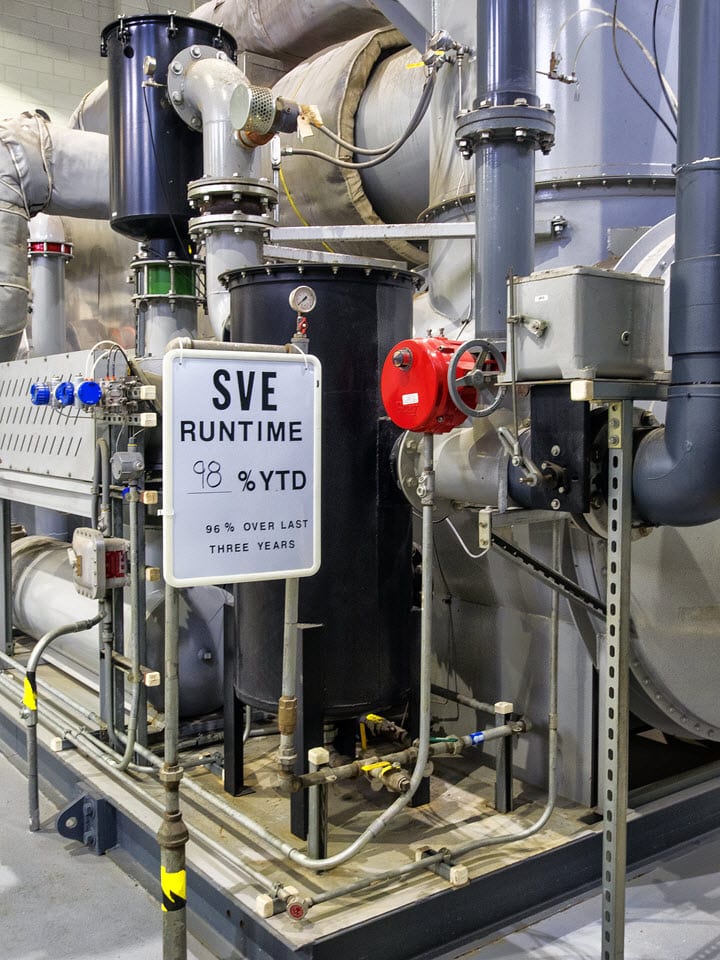 Soil Vapor Extraction (SVE) system, performing at 98% runtime
After comprehensive testing, we determined the fastest, most effective way to remove petroleum product from the groundwater beneath the Site was the use of a two-pump system. The dual-pump recovery approach works by operating a groundwater pump to depress the water-table around a recovery well, which causes the product to flow towards the well, and a second pump recovers the overlying product as it enters the well. Twenty-four dual-pump recovery wells exist at the Site, requiring ongoing maintenance and adjustments by many technicians and engineers.
The water from the recovery wells gets treated at one of two groundwater treatment systems. At each treatment system, the groundwater is treated with aeration and sand filters to remove metals, and air strippers to remove volatiles from the water, making it safe to discharge back into the nearby creek. This water is sampled to make sure it is compliant with all of the New York State Department of Environmental Conservation (NYSDEC) standards.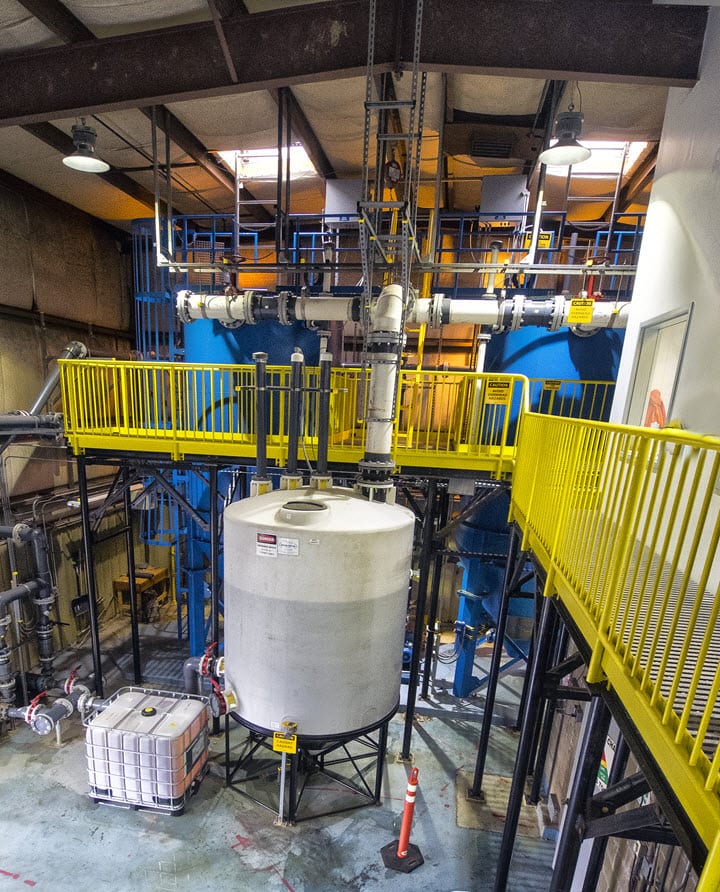 One of the groundwater treatment systems
Tim Unalp, who joined Tom as one of Roux's earliest technicians at the Site, has spent eleven years with our firm. He identified the biggest on-site challenge was managing the transition from a handful of staff members to more than thirty. It was difficult to prioritize all of the different jobs that needed to be done, a challenge that Roux was able to overcome with organized training and scheduling.
Tim is a Senior Environmental Technician who believes that what sets this Site apart from others is its unique location. "You're removed from the community at most other remediation sites," explained Tim. "But in Brooklyn, you're in the heart of people's neighborhoods. You become entwined in their backgrounds." Demonstrating our respect for the community while performing our work is paramount. Tim's perspective and understanding, which are shared by other Roux employees on-site, are integral parts of our remedial success. Our employees also assist our client in public outreach events—providing tours through the Remediation Project Site for regulators, residents, students (including West Point cadets), elected officials, and environmental groups, in order to keep the public well-informed about site activities.
A large portion of Tim's job is to oversee the soil vapor extraction (SVE) system, which utilizes twenty-three SVE recovery wells to remove contaminated soil vapor from the subsurface. The extracted soil vapor is conveyed to the treatment system, where petroleum vapors are destroyed using a high temperature thermal oxidizer; this is similar to the catalytic converter that treats emissions from your car. The use of SVE has also been added to some of the dual-pump recovery wells within the past year after extensive pilot testing—an accomplishment both Tom and Tim are proud of. "This job is unique and challenging," said Tom. "There's no monotony and no textbook. There are many different types of remediation and we have the freedom to try out new things when new equipment and technologies become available."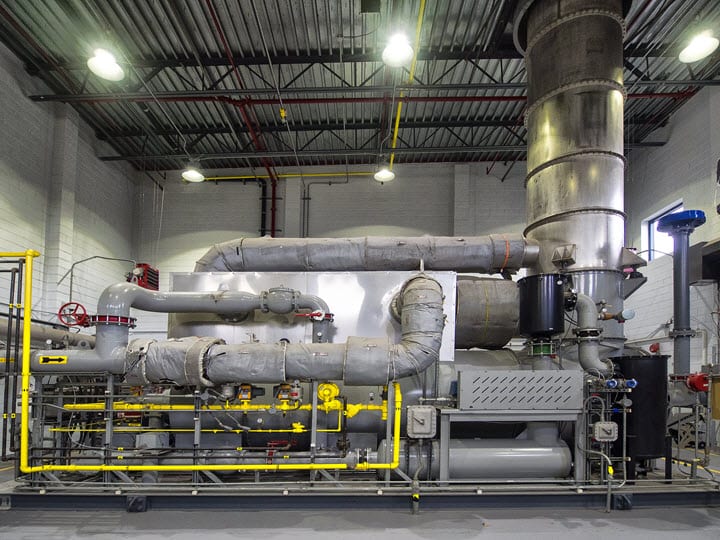 A closer look at the SVE system
Safety plays a large role in job operations for technicians, but this role extends to every single member of our Project staff. "Tailgate" safety meetings take place each morning before any work is started, acting as an opportunity for field staff, subcontractors, and oversight involved in a project to address their concerns and go over proper safety protocols. Personal protective equipment (PPE) must be worn by all staff and subcontractors in the appropriate zones—a rule that even extends to visitors. Our client has developed an industry-leading safety approach that Roux not only participates in, but embraces as the most important aspect of our work. Tim, who has worked on a number of sites, disclosed that these safety protocols were so deeply ingrained in his routine that he followed them during all of his future projects, even if the protocols at other sites were not as stringent.
One of Roux's Project Engineers, Ian Holst, shared that the Site safety procedures have made him much more cognizant of hazards on-site and in working with other clients. "The core message of identifying and mitigating hazards before starting a task spreads to all your other work, and even your personal life," he explained. Ian reinforces this safety culture by making sure the staff he oversees takes part in safe performance self-assessments (SPSAs) and properly identifies hazards. He is also part of a biannual scorecard review that evaluates safety performance across all of Roux's projects. Though he has only been on-site for about six years, hired at Roux right out of college, Ian has worked on each of the Site's remediation systems. He is involved with site investigation, product recovery optimization, and system endpoint modeling.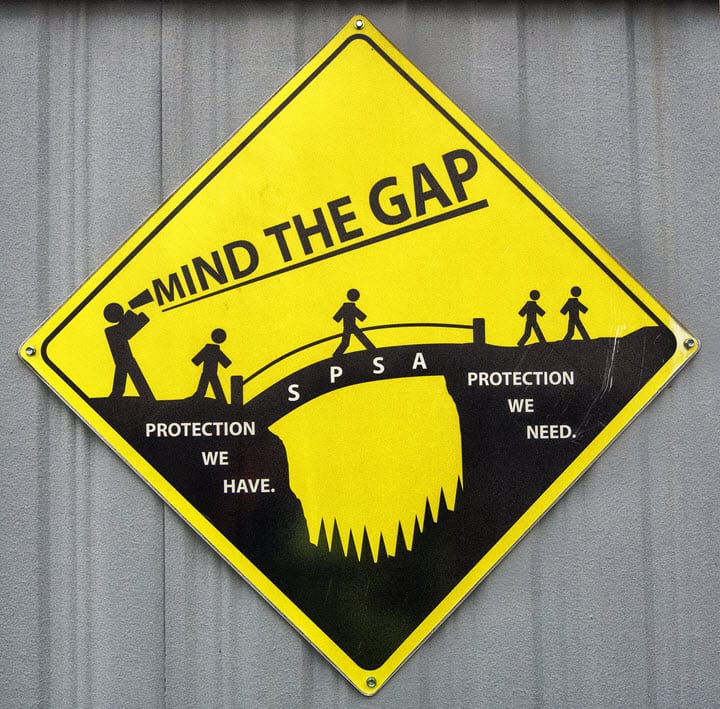 Employees are reminded to perform safe performance self-assessments, or SPSAs
Another one of Roux's long-term Project employees, Yury Sonkin, expressed a deep appreciation for the Site's safety culture. "I have learned outstanding safety procedures," said Yury, a Senior Engineer at Roux who has spent twelve years working on the Remediation Project. "The safety culture is specifically designed to proactively address circumstances that can lead to any type of loss. Working closely with the engineering and operations project team helped me to develop my own personal safety awareness, and I am absolutely positive that this will be carried forward to all of my future activities."
As a Senior Engineer working out of Roux's Islandia, New York office, Yury prepared the mechanical designs for many of the systems that are now running on the Project Site. He designs using AutoCAD drafting, having prepared 3D models and site plan drawings for multiple remediation projects. He saw these designs through to construction and completion, working alongside third-party firms to coordinate submittals, approvals, and deliveries, while providing support to Roux's junior engineers.
Yury shared that he is most impressed with the size and complexity of the multiple treatment systems—many of which were brought to life with his designs—including multiple recovery wells, our SVE treatment system, and two groundwater treatment system upgrades. Yury has enjoyed witnessing his 3D designs on paper become a reality, including the construction of a two-story 8,000 ft2  building that houses the SVE system and doubles as an office. Over the course of his long career at the Brooklyn Site, Yury has completed his design work alongside what he calls a "consistently great team," who directly contribute to the success of the overall Project.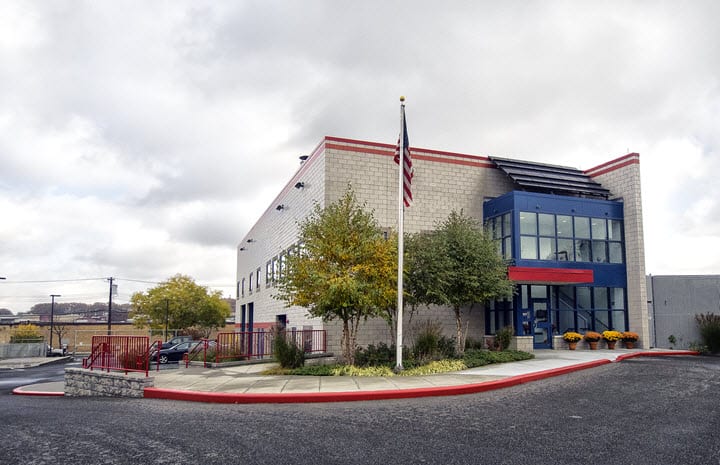 The two-story 8,000 ft 2 building Yury Sonkin helped to design,
which holds the SVE system and multiple offices
Christopher Proce, who joined Roux over fourteen years ago and is now a Principal Hydrogeologist, has dedicated the majority of his career to the Remediation Project. "I've been lucky enough to grow my career at the Site, starting with overseeing assessment drilling activities and pulling recovery well pumps for maintenance," said Chris. "I've been able to be involved in every aspect of the project, including system operation and maintenance, regulatory negotiations, real estate transactions, and long-term strategic planning. While the project is demanding and challenging, it is also the most rewarding project that I've ever worked on because of what we accomplish through teamwork between Roux employees and the client we work for."
In addition, the Project's Lead Engineer, Justin Kennedy, has been an integral part of the design, construction, and operations work on-site throughout his nineteen years at Roux. "From my first day at Roux, I have watched this project grow from just a handful of engineers working part-time to run the early recovery systems, to a large and complex remediation project," said Justin. The size of the project and its many technical challenges have provided numerous opportunities for Justin to broaden his experience through the years, and to design systems at a scale that he would not have imagined when he first started at Roux. To Justin, it's most gratifying to see the years of hard work by the team come to fruition; the many years of site investigation driving the design and construction of numerous remediation facilities and site remedies, followed by the successful operation of our systems. "The effectiveness of the facilities and systems that we have built and operate throughout the Site are a testament to the dedication and innovativeness of the entire project team, and I am proud to have been part of making that a reality," he concluded.
◊◊◊
The Remediation Project has been one of Roux's most extensive and significant environmental efforts. The operation and maintenance of our systems are among Roux's top priorities, along with the health and safety of our staff. Our client has set high expectations for our remediation system runtimes and safe work practices, and we work hard to apply these elevated standards to all of Roux's projects. From three employees to thirty, and interim measures to fully operational systems, Roux will continue to build upon our staff and technology, with the goal to see the Site through to full remediation and closure.