Protecting The Bottom Line through Loss Control Analysis
Posted on October 21, 2021
Effective Loss Control Analysis in Today's Environmental Insurance Market

 
Do you find yourself wishing you had more complete information to use in your pricing models and for your underwriting decisions? Without thorough and appropriately rigorous analyses, underwriting decisions can have significant, negative impacts to account profitability and loss ratios attributed to product, environmental, and general liability claims.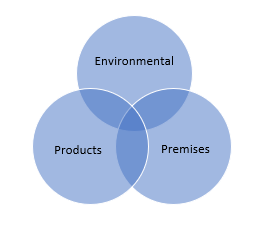 Combined form policies addressing general and pollution liabilities, including products/product pollution, on- and/or off-site pollution, transported cargo, non-owned locations, and waste disposal outlets, present multiple underwriting challenges.
Understanding the nuances of an account's facilities and operations along with their products, completed operations, or services, typically requires a more substantive analysis than what review of an application and the company's website can provide. Evaluations need to include the potential impacts of future events, some unforeseen. For example, a claim alleging bodily injury from toxic exposures to chemicals from the insureds' products could involve impairment of sensitive environmental receptors resulting in natural resource damages (NRD); release of toxic substances due to flooding during a storm event; or a vehicular accident resulting in a release of product.
What can Roux do to help? Roux's loss control evaluations provide underwriters with key information to make informed underwriting decisions, with the potential to support reduced premiums or broader, more inclusive coverage. Our insurance, engineering, scientific, economic, and financial experts can provide custom, scalable qualitative loss control analysis for complex manufacturing operations, restricted classes of businesses, accounts with significant prior claims histories, and/or large portfolios. In addition to identifying and quantifying the environmental and related liabilities likely to lead to significant claims associated with historic, current, or future site usage, as well as known or potential site pollution conditions, we use our engineering and scientific expertise to:
Evaluate products and their associated risks, including interactions with end users and the environment;
Evaluate emerging risks that may be associated with the account;
Provide opinions and recommendations;
Develop comparative risk analyses;
Eliminate assumptions and biases from the underwriting process; and
Craft new or update existing policy exclusions.
To connect with one of our experts regarding qualitative loss control services, please contact us below: