CSR Spotlight: America Needs You – Connecting Ambition to Opportunity
Posted on September 24, 2019
In the spirit of maintaining an active Corporate Social Responsibility (CSR) program, Roux is always looking for new ways to give back to our community in volunteering our time or resources to renowned charitable organizations. Last year, we were lucky enough to add Pamela Engebretsen to the Roux team; she is based out of our Oak Brook, Illinois office, where she works as an enthusiastic Business Development Manager and active participant in our CSR program. Shortly after joining Roux, Pamela met with a client who inquired about her background and volunteer interests. After sharing that she was a first-generation college student who moved to the US from Turkey at the age of nine, the client shared that he was on the governing board for America Needs You (ANY)—an organization that provides professional development support to low-income, first-generation college students through mentorship and access to robust networks. Pamela's immediate interest in ANY has grown into what she calls "an incredibly rewarding experience," where she has now spent over a year mentoring a young college student and helping her to achieve her career goals.
Founded in 2009, ANY began in New York with the vision that one day there will be no barriers to economic mobility for students with ambition and ability. Today, there are ANY Programs in place in New York (including LaGuardia Community College and Borough of Manhattan Community College), New Jersey, Illinois, and California. ANY enrolls first-generation college students (or "Fellows") in a two-year intensive workshop series, where they are matched with a Mentor Coach. The Fellows are recruited during their freshman year of college and begin the ANY program the summer before their sophomore year. Over their two years of mentorship, the students and coaches meet for 220 hours of workshop time, meeting two Saturdays per month the first year and once a month the following year. Today, there is only an 11% chance that a low-income, first-generation college student will complete their bachelor's degree; however, 94% of ANY students graduate college within six years and get a job or continue on the path of higher education.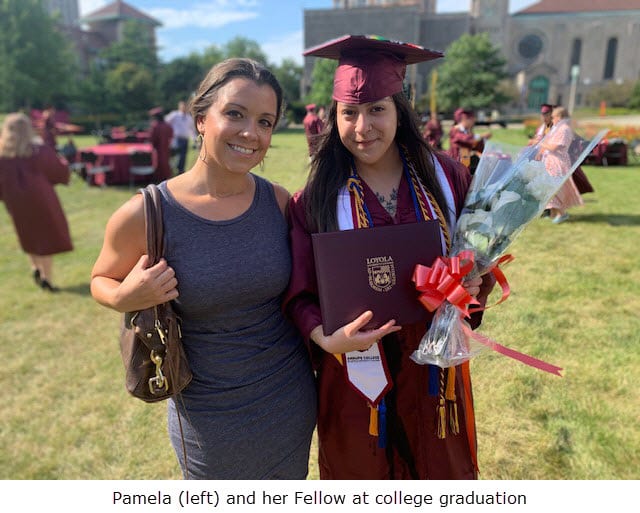 Pamela explained that her role as a Mentor Coach involved encouraging her assigned Fellow to navigate the school system and complete two internships prior to graduation. She also assisted in creating resumes and cover letters, teaching how to build a network, finding additional mentors, financial planning, and maintaining a work/life balance—all skills that professionals of all ages could benefit from, and often struggle with. "The program is a great refresher for mentors too," Pam shared.
After a year under Pam's guidance, her assigned Fellow graduated from Loyola University Arrupe College in Chicago, Illinois with her associate's degree this summer. Pam recalled that one of the most rewarding parts as a Mentor Coach was preparing her student to network at an event. Pam's Fellow received three business cards from colleagues she had met; one of those contacts worked for the Senator's office, where she was able to not only set up an interview, but gained an internship opportunity. Pam and her Fellow share the same college major: Political Science, and Pam's Fellow is interested in local legislation. In taking the next steps toward a political career, Pam's mentee is now transferring to Loyola Marymount in Los Angeles to complete her bachelor's degree. Thanks to Pam's direction and advice, her Fellow was able to attend her dream school with very little debt after winning scholarships and additional financial support.
As of July 25th, Pamela has accepted an additional volunteer position as chair of ANY's Young Leadership Board, where she will be overseeing four committees supporting ANY and their cause. Her newest responsibilities will include recruiting new Mentor Coaches, committee recruitment, and helping to plan a large fundraising event coming up in January 2020. Additionally, Pam will still be mentoring her Fellow and assisting with homework via texting, phone calls, or video chat.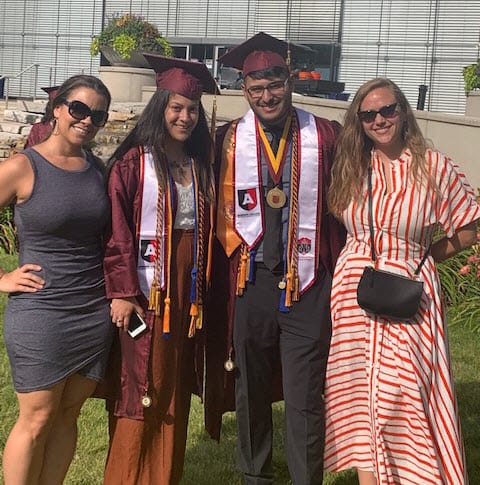 After having such a positive and gratifying experience being a Mentor Coach, Pamela shared ANY's mission with the rest of the Roux Illinois office. The ANY mission resonated with another one of our dedicated volunteers: Sarah Bassett, a Project Engineer and CSR co-leader in our Oak Brook office. Sarah has currently only attended one workshop, but she's been wanting to get involved with a volunteer opportunity with consistency (rather than meeting or participating once a year), and she's looking forward to getting matched with a student studying STEM (Science, Technology, Engineering, or Math) in October. "I'm excited to support STEM outreach in any way, especially for women and diverse groups," said Sarah, "People might not always think about this volunteer path, but it makes a difference." An exciting part of Sarah's volunteer experience is how the program has expanded since last year; Pamela's 2018 cohort serviced 50 students, whereas Sarah's 2019 cohort has increased to 75 students.
In addition to volunteering her time as a Mentor Coach and Young Leadership Board member, Pamela is going the extra mile and fundraising for ANY by running the 2019 Bank of America Chicago Marathon. There will be ten spots for ANY runners in the marathon, including Pamela and a friend she's recruited, who have been training through the Chicago Area Running Association (CARA) and spending their Saturday mornings taking on sixteen-mile runs. The marathon takes place Sunday, October 13th, and donations to ANY can be made directly to Pam on her fundraising page.
Roux is proud to help grow ANY's reach in Chicago and would love to expand their nationwide volunteer participation. To become a Mentor Coach like Pam and Sarah, many ANY locations allow applicants on a rolling basis here. In addition, ANY is always looking for Career Coaches, who volunteer once or periodically; members to join the Young Leadership Board; as well as regional and national sponsors.
If you're interested in finding out more about ANY and volunteering in any of their nationwide programs, please apply using the links above, or let us know here.