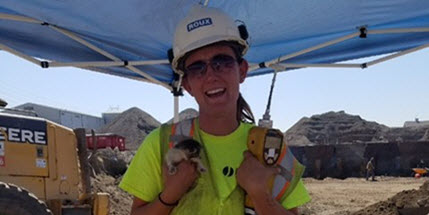 CSR Spotlight: Unexpected Rescue, West Coast
At a former asphalt plant site in the Los Angeles downtown area, the same surprising discovery was made two days in a row. Within the two days, two kittens were found onsite and were adopted by members of our Long Beach, California office. Their office has always been active in animal rescue, participating in Best Friends Animal Society events—promoting adoption and striving to make LA a no-kill city. Read the full story here.
Careers with roux
Our best product is the smart and creative thinking that we provide to our clients every day. We continually challenge our professionals with new opportunities in a supportive, healthy, sustainable, and safe environment. We will always make room for and welcome talented and motivated engineers, scientists, and support personnel with backgrounds in earth sciences, as well as civil, chemical, and environmental engineering.