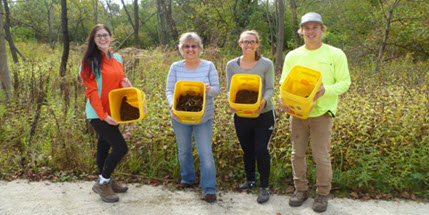 CSR Spotlight: Forest Preserve Restoration
Members of Roux's Oak Brook, Illinois office took part in an office volunteer workday at a local wildlife center and forest preserve, Willowbrook Wildlife Center. The Wildlife Center helps to rehabilitate and release injured or abandoned wildlife. Our team took part in native seed collection and invasive species removal. We will also be adopting a vision-impaired Barred Owl through the Willowbrook Center. Read the full story here. 
Careers with roux
Our best product is the smart and creative thinking that we provide to our clients every day. We continually challenge our professionals with new opportunities in a supportive, healthy, sustainable, and safe environment. We will always make room for and welcome talented and motivated engineers, scientists, and support personnel with backgrounds in earth sciences, as well as civil, chemical, and environmental engineering.