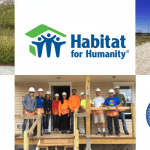 The CSR program directs financial donations and volunteer activities to established charities aligned with the goals of bettering our communities, improving conditions in poor and developing countries, and conserving natural resources. Roux has donated hundreds of thousands of dollars, and thousands of hours of volunteer time to charitable causes.
From stocking the local food pantry, to participating in Habitat for Humanity Build Days, to organizing corporate-wide fundraising events, each Roux office focuses on the needs of the surrounding community, addressing them with donations, hard work, and commitment. We incorporate service initiative into our corporate culture. See below for some of our partners:
























If you are interested in getting involved or finding out more about Roux's CSR program, please call our corporate headquarters in New York at (631) 232-2600.