This week we'll be recruiting from coast to coast, with a large focus in California. Read more below and click the links for best practices/more information:  
Wednesday, October 17
UC Berkeley Civil & Environmental Engineering Fair – Last year, University of California, Berkeley's career fairs served more than 20,000 students and one thousand employers. This fair focuses exclusively on Civil & Environmental Engineering (CEE) students at the graduate or undergraduate levels.
Thursday, October 18
UCI STEM Career Fair – At the University of California, Irvine (UCI) career fairs, students learn about job and internship opportunities offered by companies, government agencies, and non-profit organizations. Thursday's fair will offer students of Science, Technology, Engineering, and Mathematics part-time, full-time, and internship opportunities.
UCLA Engineering & Tech Fair – This is the second day of the University of Los Angeles' Engineering & Technology Fair, open to students and alumni. Make sure to RSVP via Handshake before the event.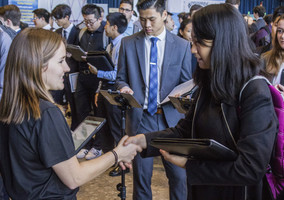 Friday, October 19
CEE Fall 2018 Career Fair – This fair will be hosted by UMass Amherst for Civil & Environmental Engineering students. Check out the Engineering Career Development and Experimental Learning center site for more information/resources.