Employee Spotlight: Marlon Wilson
Posted on February 26, 2018
At Roux Associates, we stand behind the fact that our best product is our smart and creative thinking, leading us to focus much of our time and energy into our people. Hiring, training, and keeping our valued staff is one of our core values, and we revel in the opportunity to highlight our employees' outstanding achievements, both on and offsite.
Marlon Wilson, an Onsite Environmental Monitor at Roux, is one of our exemplary employees. Over the past 3+ years, Marlon has worked on one of our busy Brownfields sites in Brooklyn, New York. His onsite work focused primarily on monitoring our client's contractors, ensuring they are following specific environmental requirements which are in place to keep the surrounding community safe and unaffected. For example, Marlon enforced high standards of keeping dust, noise, and traffic-related impacts of the site at a minimum, so these factors did not interfere with the local community and their daily routines. Marlon himself is a member of the Brooklyn community, which added a vested interest to his work performance.
In addition to monitoring, Marlon also trained contractors, implemented community air monitoring plans, reviewed data, and performed Stormwater Pollution Prevention Plan (SWPPP) inspections. All of his tasks entailed a large amount of reporting and paperwork. According to his supervisor and Principal Engineer, Omar Ramotar, Marlon worked long shifts and weekends without a complaint, often coming in to work with very short notice.
While Marlon is a valued member of our team, his service and experience was needed outside of our firm for longer than five months. As a member of the United States Coast Guard and Atlantic Strike Team, Marlon was called on August 31st, 2017 to aid environmental efforts in areas of the country that were devastated by hurricanes. From August to January 18th of this year, Marlon was away from home, serving about 3-4 weeks at a time in Texas, the Virgin Islands, Puerto Rico, and Key West, Jacksonville, and Miami, Florida.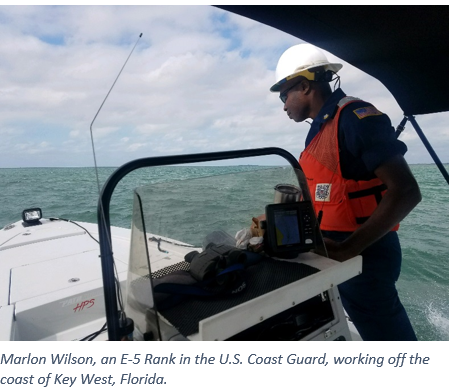 Marlon's first assignment, which at the time he thought would be his only one, was working with the United States Environmental Protection Agency (EPA) in Houston, Texas. Though Marlon was used to his work with the Coast Guard taking place within the coastline, in Texas he was assigned inland work as well. Specifically, his task in Texas fell under Emergency Support Function (ESF) 10, which is the Federal Emergency Management Agency's (FEMA) oil and hazardous materials response. Marlon's HazMat training made him especially qualified for this job, which is a requirement of all Roux technical staff. Due to the hurricane and the rising water levels, refinery tanks overflowed with product; Marlon and his team documented how much oil was spilled, and followed up with the appropriate parties or contractors to make sure it would get cleaned up as soon as possible. His scope of work in Texas included recording the placement of orphaned oil tanks and containers, and monitoring contractors—similar to his Roux job—who removed hazards from the environment.
As more of the Texas responsibilities got passed on to locals and different sectors of the Coast Guard, Marlon was unexpectedly called to the U.S. Virgin Islands while still working under ESF 10. This time, his duties were more directly related to the coastline. As the coastline receded from the storm, many vessels were sunk or stuck in nearby mangroves. Marlon and his team pinpointed each sunken vessel, gathered boating registration numbers, and contacted owners. To carry out this task, they talked to marina owners, and even individuals at the Department of Interior, as boats were showing up on their land. Members of the Coast Guard split up to work on the islands of St. Thomas and St. John, where Marlon spent most of his time, to document, tag, and give owners a thirty-day notice to pick up their boats. Teams split up further with two Coast Guard members and one EPA contractor. Over 200 boats were documented on the shores of the three islands before he left.
For the next few weeks, Marlon's scope of work shifted as he was transported to Puerto Rico. The aftermath of the hurricane in Puerto Rico was particularly destructive, causing FEMA to borrow many individuals from different agencies due to the overwhelming need for relief. "In Puerto Rico, I got to see the bigger picture," explained Marlon, who had spent his last few weeks working in the field. Ironically, this time he got to "see" everything from an office, as part of ESF 5, which handles information and planning. He worked alongside two lieutenant commanders in a branch in charge of creating reports—they received information on which areas needed food, medical supplies, shelter, and so on. As part of the planning department, Marlon then read through the reports, synthesizing the information into spreadsheets. His team also created maps, charts, and presentations to show the branch director. This reporting made it possible to coordinate efforts, decide which group of people should tackle which task, and confirm efforts were not duplicated. The reports and presentations made by Marlon and his team outlined which barrios in Puerto Rico needed electricity, food, and water; which areas were in danger of flooding; where pets and animals needed rescue and aid; areas requiring medical supplies; and sites with homes that needed roofing, where the Blue Roof Program provided blue tarps as temporary roofs.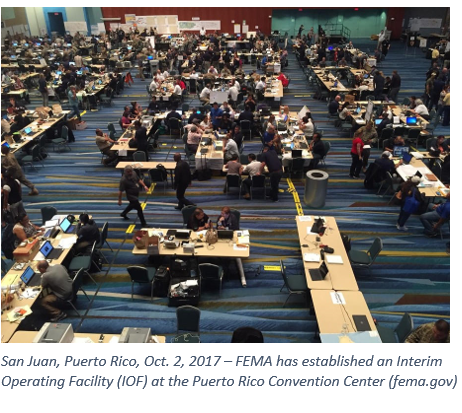 Marlon worked out of a large convention center in San Juan, which he called "the eyes and ears of the whole operation." Amid crisis, the center held members of the Army, FBI, FAA, Coast Guard, Customs, ICE, and other Homeland Security agencies, just to name a few. Members from some of these organizations worked out of their own sectioned off areas, and all were called in by FEMA to play a different role in supporting the island. "We were responsible for over 700,000 people," said Marlon. For long, eleven-hour days for two weeks, Marlon worked out of the office. During one of these days, he volunteered to deliver food and water to a deaf community in Morovis. "I prefer being in the field, but office work is equally important," Marlon speculated. "It was a great opportunity and I learned a lot. I was able to see first-hand how FEMA works and how big the response was."
Finally, Marlon's last stop was Florida: first Key West, and then Jacksonville and Miami. In Key West he had similar responsibilities as he did in the Virgin Islands, dealing with displaced vessels. This time, the Coast Guard had to determine whether removing the boats was in the best interest of the environment; vessels had to be moved with minimal impact to the surrounding mangroves and seagrass. Marlon and his team monitored contractors removing hazards from the boats that could be harmful to the ocean and marine life, like batteries, propane tanks, and sailing masts. They performed thorough assessments to guarantee no vessels were missed, and certified the Coast Guard's contractors had the proper number of people, pumps, and materials they needed, ultimately checking for billing accuracy. In Jacksonville and Miami, he again performed cost documentation, reviewing the costs of 4-5 contractors per location assigned.
In Marlon's absence at Roux, Omar first needed to transition his site from having two Onsite Environmental Monitors to one. For approximately half the time Marlon was gone, Omar supplemented different members of our Roux field staff (engineers, scientists, and geologists) to help with his workload onsite, which was an effective way to challenge and develop our younger staff. Now that Marlon has returned, Roux is beginning to transition him from a technician to an engineer as he takes civil engineering classes; this means he has moved to a different Roux site with a closer focus on engineering. Omar mentioned he was sad to see Marlon leave his site as he'll miss his dedicated work ethic—but he knows this next step in Marlon's career will be beneficial, ultimately offering him more growth within the company.
During his time serving for the Coast Guard, Marlon shared that he and his family had a lot of support from Roux. "Omar kept in contact and asked if I needed anything," Marlon recalled. Omar reminded Marlon to keep in touch, as well as that our new office near Houston was there for his use if necessary while he was in Texas. Marlon's efforts also inspired all of Roux to participate in hurricane relief fundraising efforts, resulting in over $40,000 of donations. Omar and Roux's reassurance and high regard for the Coast Guard granted Marlon feelings of support and pride, despite the distance between him and his family, friends, and workplace.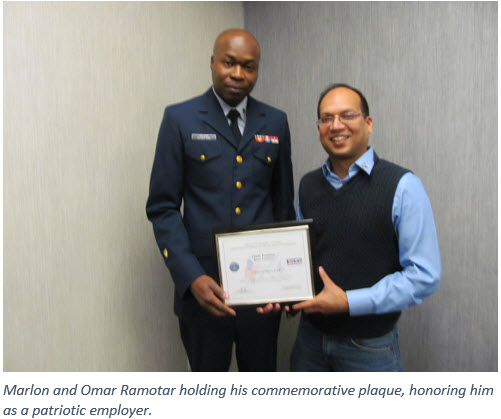 On February 16, 2018, Marlon and Michael Chierico, New York Area Chair of Employer Support of the Guard and Reserve (ESGR), honored Omar at a small ceremony at Roux's New York headquarters. ESGR develops and promotes a culture in which all American employers support and value the military service of their employees. At the ceremony, Marlon and Michael presented Omar with a pin and plaque, commemorating his employee support of the Guard and recognizing him as a patriotic employer. Before presenting the awards, Marlon expressed his gratitude toward Omar for his compassion, professionalism, and understanding during Marlon's time away from Roux.
Marlon looks forward to the challenge and the change of scenery offered by his new job site, gaining his Master's and another Bachelor's degree while furthering his career at Roux, and continuing to support those in need through service to his country. Roux, as a proud military employer, thanks Marlon for his quality work on our field sites, within our coastlines, and beyond.