CSR Spotlight: Empire State Ride To End Cancer
Posted on August 23, 2017
Here at Roux, an active CSR program is an integral part of our company values. Nathan Epler is one of our most active CSR participants; he has been at Roux for over 20 years as a Principal Hydrogeologist, and is Vice President of the non-profit organization Coastal Steward Long Island. On Sunday, July 30th Nathan took part in the Empire State Ride To End Cancer: a bike ride from Staten Island to Niagara Falls that lasts a full week, making up a 546-mile-long journey.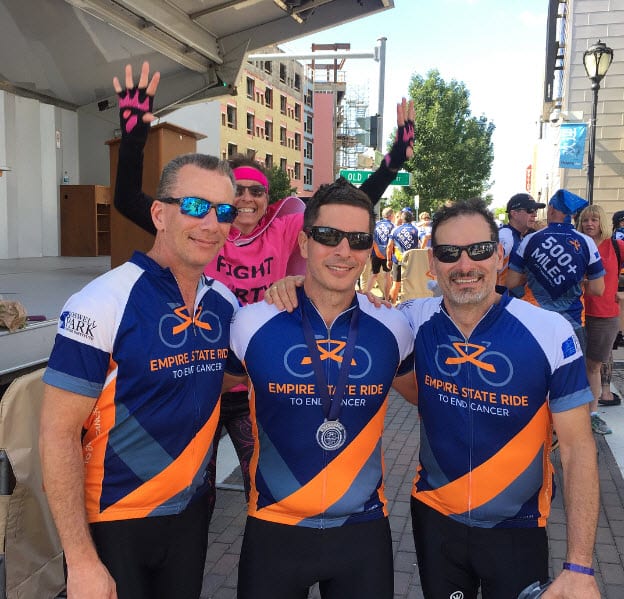 The annual Empire State Ride (ESR) benefits the Roswell Park Cancer Institute, located in Buffalo, New York. This institute is America's primary cancer center where the nation's first chemotherapy program was established, and has been conducting cutting-edge cancer research since 1898. Nathan (left) first heard about the ride and its cause through one of his friends, Steve Mars (middle). Steve is a cancer survivor, like many of the other riders. Some riders lost loved ones to cancer or had survivors in their immediate family. There were even some riders undergoing chemotherapy while participating in the week-long ride. The experience of riding together through long, exhausting days, paired with exchanging stories about how cancer affected their lives, created a close bond between the riders as they united to cycle for a cure. "You become a real team," explained Nathan, "I began the race knowing one person and ended it feeling like I was part of a family." What started out as a bike trip became something much more.
Nathan had a lifetime of cycling experience to prepare him for the ride. He began bike touring at age 14, carrying gear with him for American Youth Hostel trips. His love for bike touring led him to ride across the country twice, at ages 18 and 21, carrying heavy gear and led only by paper maps. He has been cycling ever since for both leisure and other fundraising events (such as the American Diabetes Association's Tour de Cure), but preparing to ride through New York State for a week straight required training he had never done before. "I wanted to prove to myself that I still had it in me to do this," he said.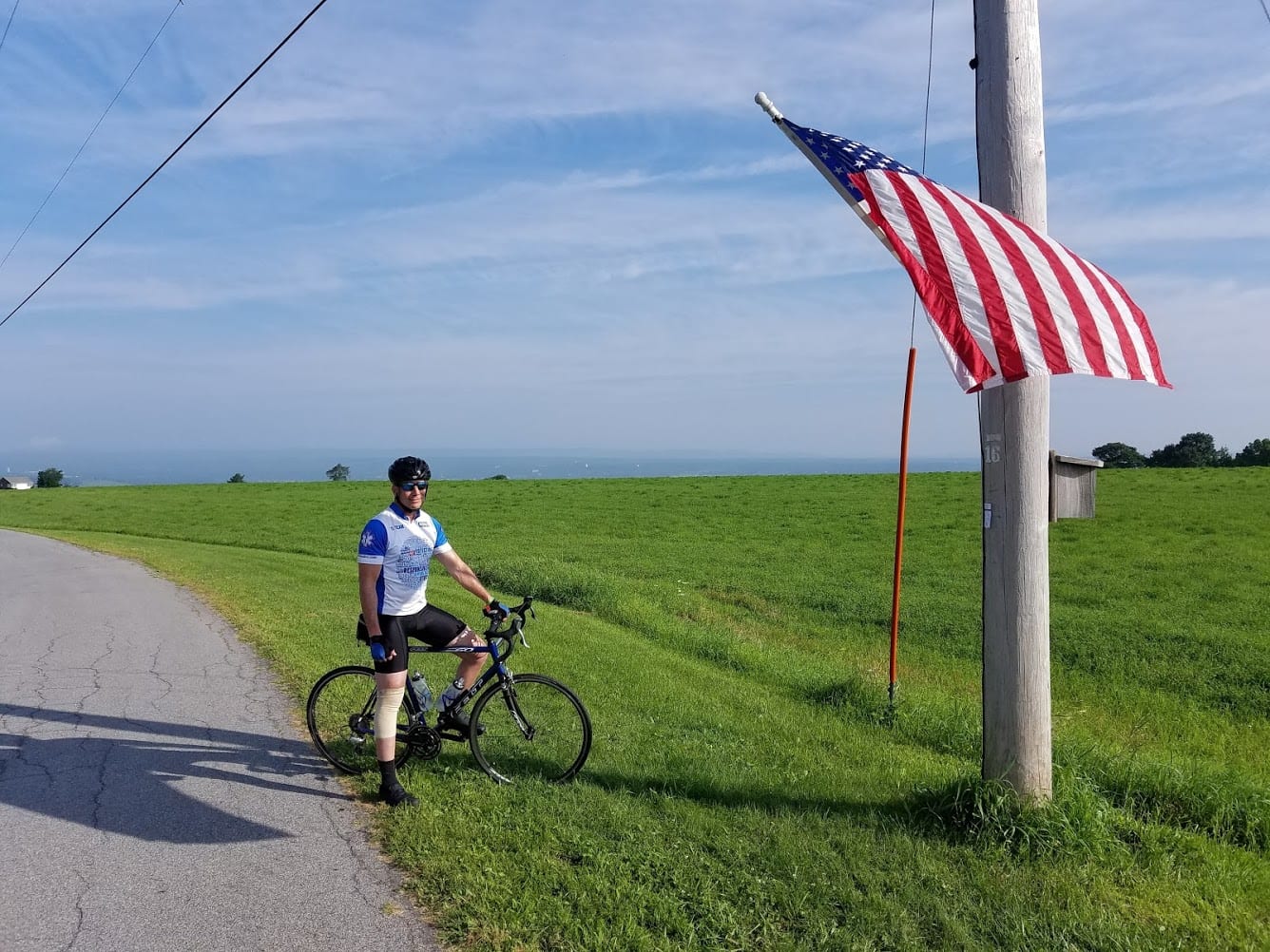 The trip began Sunday morning in Staten Island, where the riders took the ferry to lower Manhattan and started out on the green belt along the west side toward, and across, the George Washington Bridge. They traveled through the Palisades to Stony Point, making up a 57-mile ride. From then on, they traveled almost 80 miles a day for seven days straight through hills and heat. "New York State is absolutely gorgeous," recalled Nathan, citing photos of rolling hills, farmland, and recollecting mostly good weather. There was one day where the group experienced a thunder and lightning storm, but Nathan didn't mind since "it kept him cool." The route proceeded up the Hudson Valley to Albany, and then west along the Erie Canal. In Albany, Nathan accidentally veered off the path and got separated from the group. He was met with an ESR representative who offered him a van ride to reunite with the rest of the group or return to camp. Instead, Nathan denied the ride and persisted, refusing to give up. Because of his off-course travels, he estimated to have totaled 570 miles, as opposed to the set 546.
Despite taking the road less traveled, Nathan described his journey as "bike riding heaven." Many of the riders who came from triathlete or competitive backgrounds treated the ride as a race, but Nathan made a point to pace himself. He stopped to take photos often and take in the scenery. Rest areas on the side of the road provided food and water every 15-20 miles, and at night the riders slept in tents—an added bonus for Nathan, since he also loves to camp. These accommodations, as well as others like mobile bicycle repair trucks, great food, and a superb support staff, made for a safe, organized trip with zero accidents.
When the group finally made it to Niagara Falls on August 5th, they rode through the streets two by two and were greeted by over a thousand cheering people lining the route into the center of Niagara Falls. Many of the riders' family members came to support and congratulate them, ending the week with an emotional and joyful celebration.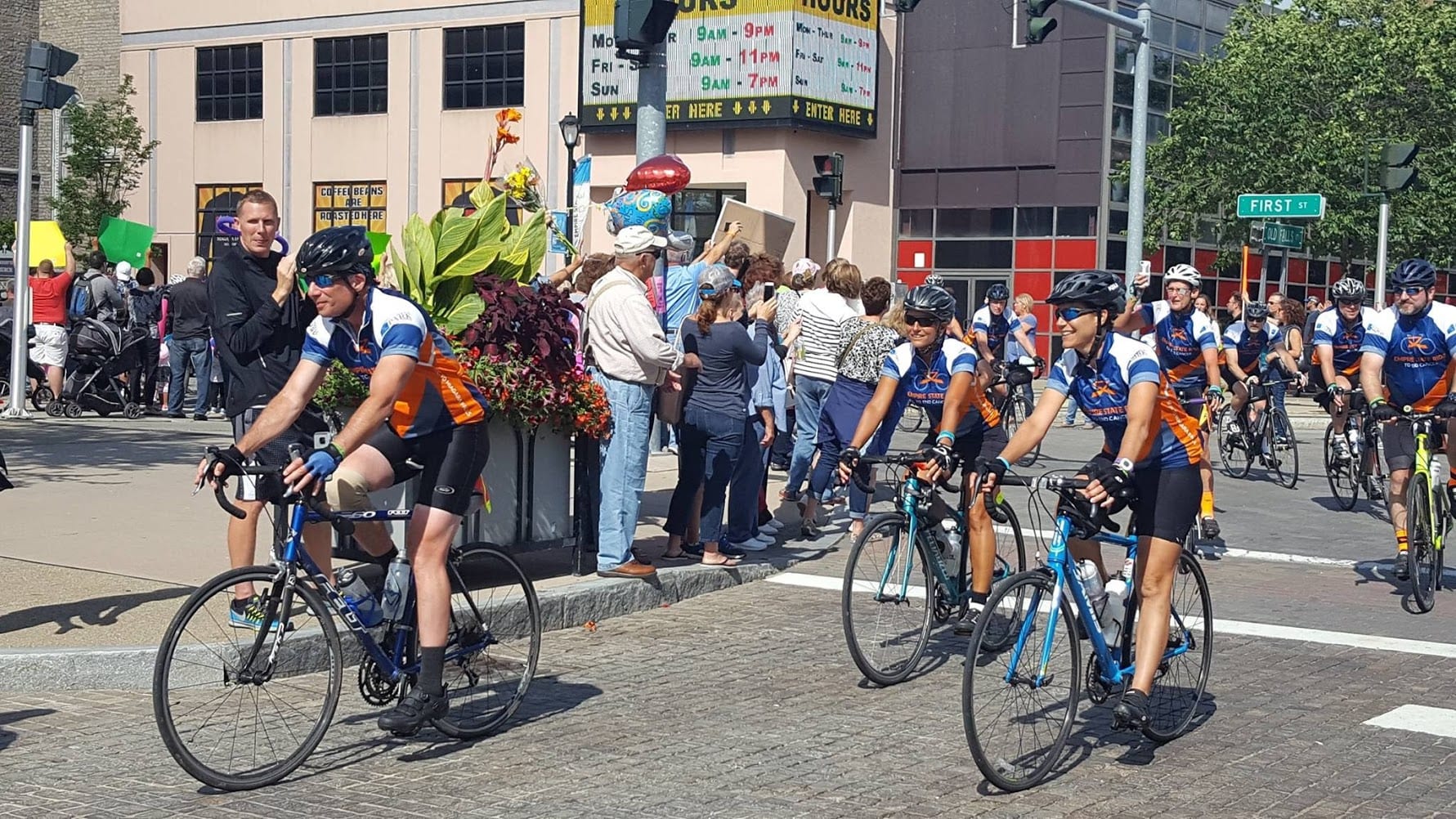 Nathan (left) riding through town in Niagara Falls, greeted by spectators lining the streets
The Roux Team, comprised solely of Nathan and Steve, raised $15,000 for the cause, putting us in fourth place out of all participating teams. The ride in total raised over half a million dollars—which will be matched, meaning over one million dollars will be donated to the Roswell Park Cancer Institute thanks to the Empire State Ride. Between the sights, the stories, and the friendships gained, Nathan described the ride as one of the most memorable experiences of his life. He plans to get back on his bike for the ESR again next year, hopefully recruiting more members to join the Roux team to ride to end cancer.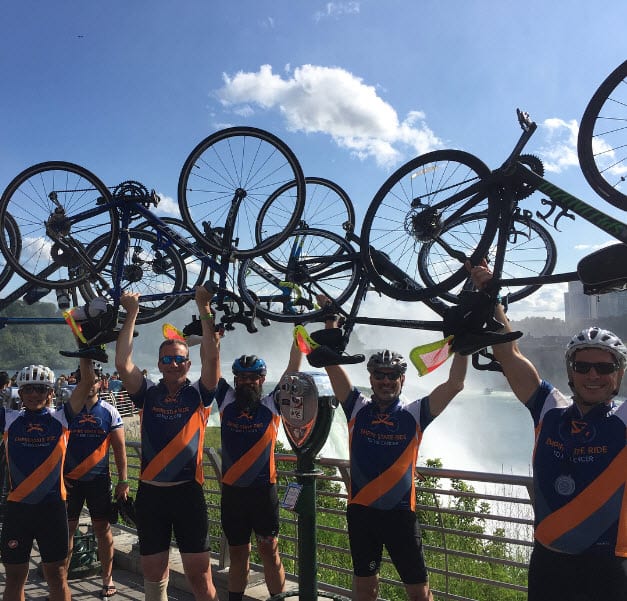 Nathan and some of his new friends, celebrating their victory in front of the falls