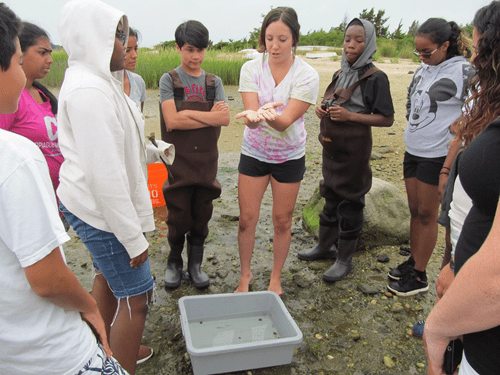 On August 15, Farmingdale State College's Science and Technology Entry Program (STEP) went on a field trip to the Marine Environmental Stewardship Center (MESC) in Mount Sinai, New York, hosted by Coastal Steward Long Island (CSLI). STEP offers academic services and onsite experience for students in grades 7-12 who are interested in science and technology and are local to the Farmingdale area.
The students split up into two groups led by CSLI's marine educators, experiencing the full package of their marine education programs. The day began with catching and releasing marine organisms in seine nets, followed by visiting the Shellfish Hatchery where students observed muscle dissection and helped to sort oysters. The students then explored the MESC touch tanks, observed and identified plankton with microscopes, watched an educational video on Mount Sinai's coastal geography, and had some free time to view the MESC fish tanks and play with their many touch-screen games.
Roux is proud to support CSLI's field trips and their wide range of marine education programs. To learn more about their programs for children of all ages, please click here.