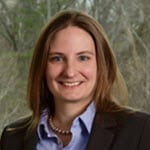 Woburn, MA
Ms. Scott is a registered professional engineer with fifteen years of experience providing environmental consulting services and strategic planning for a variety of clients, including industrial facilities and insurance carriers. Ms. Scott has significant experience with site investigations, remedial design and operation, wastewater treatment design and permitting, and environmental compliance auditing and permitting. She has substantial experience working on remedial projects and has performed and managed various site investigation activities. She has designed and implemented site remedies including groundwater treatment and recirculation, in situ chemical oxidation, soil vapor extraction, and air sparge systems. Ms. Scott has also provided compliance and design services associated with wastewater, air, hazardous materials, stormwater, and petroleum storage for a wide variety of commercial, industrial, state, and municipal facilities. Ms. Scott's areas of expertise include the investigation and remediation of chlorinated solvent sites, along with remedial costing and allocation.
Representative Projects
Designed and implemented a multi-system remedial project for mitigation of a chlorinated solvent plume in order to achieve site closure in less than 5 years. Mitigation measures included in situ chemical oxidation (ISCO) treatments, soil vapor extraction, air sparging, recirculating groundwater pump and treat, and various indoor air mitigation measures.

Provided field oversight and project management for a large construction project at a former compressed gas manufacturing and distribution plant. Prepared and oversaw implementation of remedial work plan for the exhumation of potentially hazardous compressed gas cylinders from the subsurface.

Provided release delineation and remediation services for a large communications client. Designed and implemented the in situ treatment of petroleum-impacted soils beneath a building using bioremediation additives.

Worked on behalf of an insurance company to assist in the development of an expert opinion concerning the environmental conditions at the site and adjacent properties, and whether investigative techniques and approaches used at the site were conducted in accordance with USEPA guidance for investigating sites where dense non-aqueous phase liquid (DNAPL) is present.

Served as Principal-in-Charge of remedial oversight activities conducted on behalf of an insurance carrier. Remedial activities, including ozone washing and heat treating, were implemented to eliminate volatile organic compounds (VOCs) and odors from a flooring system, which were negatively impacting produce and food products in a farm store.