Roux Associates was founded in 1981 in New York by Paul Roux as a groundwater contamination investigation practice. The first projects the firm undertook included groundwater investigations at several major Superfund sites.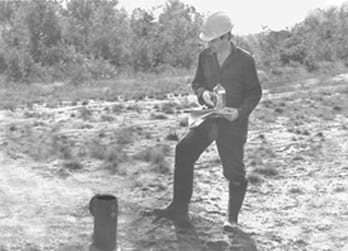 Paul Roux at the 1982 Industri-Plex Superfund Site – Woburn, Massachusetts
Other early projects included extensive studies of the impact of agricultural pesticide application on groundwater and surface water resources in 25 states, and investigations of contamination from leaking underground storage tanks at gasoline service stations in the northeast and California.
Through the 1990s, Roux Associates expanded both geographically and in the scope of our environmental services, including engineering design, construction management, risk assessment, regulatory compliance, and expert witness services. During this period, the size of the firm increased rapidly and Roux was twice named one of America's 500 fastest-growing private companies by Inc. Magazine. From 1996 to the present, Roux has been listed as one of the Top 200 Environmental Consulting Firms by Engineering News-Record.
From the late 1990s to the present, Roux has focused on developing cost-saving, innovative solutions to complex environmental contamination problems. The firm has pioneered Engineered Natural Systems (ENS) technologies, including a patented Constructed Treatment Wetland design and other award-winning innovative remedial technologies. These technologies are utilized by Alcoa, BASF, and other major corporations. In addition, Roux has developed extensive practices in the areas of insurance support, litigation support, and economics and complex analytics.
For more on the history of Roux Associates over the past 35 years, including a few key projects that were instrumental in our growth, please click here.