On Tuesday, April 28, 2015 the One Fulton Square Project Team that included F&T Group and Roux Associates was awarded two 2015 Big Apple Brownfield Awards by the NYC Brownfield Partnership.  The NYC Brownfield Partnership presents awards for successful NYC brownfield redevelopment and clean-up projects every year.  The awards were for Economic Development and Brownfield Opportunity Area Connectivity for the One Fulton Square Project.
The project started in Feb 2011 and is one of the largest projects in the NYC Voluntary Cleanup Program (VCP).  The property, located at the intersection of 39th Avenue and Prince Street in Flushing, Queens, was formerly occupied by an auto body repair shop, a gasoline filling station and a parking lot.  The property was vacant for 10 years prior to enrollment in the VCP.  F&T Group has completed the remedial action at the property and development of a 346,000 square foot mixed-use development that includes a 12-story 43-unit residential structure and a 10-story 168 room Hyatt Place Hotel structure that includes a 3-story retail podium with 2-levels of subterranean parking.  The new building produced approximately 140 permanent new jobs and has employed over 250 construction workers.
Below is a photo from the Big Apple Brownfield Awards Ceremony, April 28th, 2015.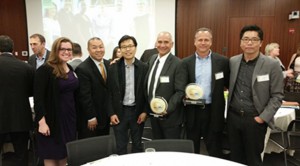 From Left to Right:
Jessica Collins, Roux Associates
Sin Senh, Roux Associates
Richard Siu, F&T Group
Tom Barone, F&T Group
Guy Bodenburg, F&T Group
Paul Teng, F&T Group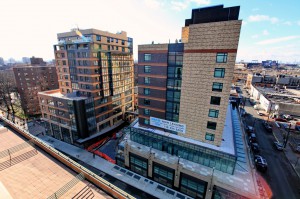 Click here to learn more about One Fulton Square