Complimentary Roux Webinar: Renewable Energy Production on Contaminated Properties
Posted on November 09, 2017
Renewable Energy Production on Contaminated Properties
Monday, November 20th • 2:00pm (EST) • Meredith Harris, P.E.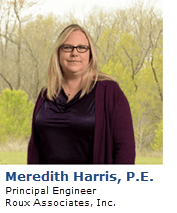 Owners of contaminated properties are looking for ways to offset costs associated with long-term operations and maintenance. Renewable energy companies need land for new installations. Bringing the two together can create a win-win situation that results in cost savings, beneficial reuse of underutilized property, and green energy production.
This webinar, presented by Meredith Harris, P.E., Principal Engineeer, will provide an overview of considerations for both landowners and renewable energy developers, including the types of sites that may be appropriate for development, potential cost savings, engineering considerations, regulatory considerations, and the roles of the various parties involved in these sites. A case study will also be presented to demonstrate a practical application and important lessons learned.
To register, please click on the button below: